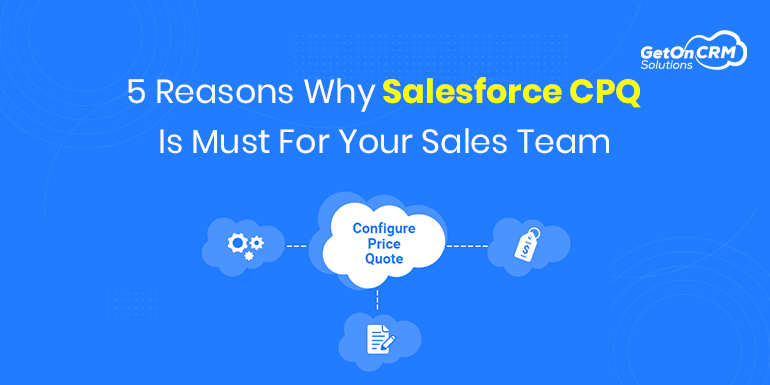 5 Reasons Why Salesforce CPQ Is Must For Your Sales Team
January 10, 2022
11 minutes
843
Generating sales is no easy task! The team needs to put up impactful quotes upon complex products, to develop that recognition and help the product get attention. If the company is dealing with higher-value products, then the complexity of selling them multiplies exponentially. Your company's sales team needs to have sufficient knowledge of the product to plan out a definite quote for it.
Most companies are still boosting the motivation of their sales team to get this job done manually. But this is a very time-consuming process, which is eventually deteriorating the productivity of your business sales. Therefore, Salesforce CPQ implementation is the modern-day solution for automating the price quoting aspects for a business product.
Salesforce CPQ (Configure Price Quote) solutions help your company's sales team spend less time preparing quotes and more time on actual selling. This article is the right pick if you are new to this solution. Here, you will get a few important reasons to help you believe that Salesforce CPQ is a must for your sales team.
Features of Salesforce CPQ Solution
Before you head out to know why you should integrate Salesforce CPQ, count on getting a brief insight into the features of this solution. It will help you better relate to the reasons and benefits of integrating it into your brand's sales process. The features include:
1. Configuring the Products
This feature helps the sales team create product bundles for selling them easily. The representatives can use the tool to change these bundles anytime they need. The configuration potential also helps in deciding the pricing.
2. Availing Discounts
Salesforce CPQ is accountable for supporting basic discounting to negotiate the deal. But apart from that, it also offers some predefined discounts for specific use cases. It uses the concept of automating and simplifying for implementing the easy discounting aspects.
3. Contract Creation and Renewal of Quotes
With Salesforce CPQ, you can create deal contracts and implement renewals for the quotes. Hence, this will make the process seamless and efficient for your sales team.
Some more evident features are integrated with the usability of this solution. So, you will get a brief insight about them all while you study the reasons for integrating it on priority.
The Evident Reasons to Integrate Salesforce CPQ
You might have a great sales system running seamlessly for your company's profitability. But isn't it better to upgrade it to an even proficient sales execution ideology? If you want to give it a shot, then Salesforce CPQ is here to assist you in the process. This solution by Salesforce is a master tool for the sales representatives of any company. Here are the reasons to support this claim:
1. Reduce the Human Errors and Operational Costs
Your company's sales representatives spend most of their work generating quotes for your business products. And with a manual approach, they do it by collecting information from diverse systems, documents, spreadsheets, etc. Hence, this tiring job implementation leads them to make errors in generating quotes.
The simple solution for it is to adapt Salesforce CPQ integration. It helps you with smart and customizable quoting templates. Hence, it will help your team create and send the sales quotations easily to the customers or clients. Not just that, but it will also help you out in creating professional proposals or invoices for the clients/customers.
With the template and built-in software, the quote generation process is automated depending upon the product attributes that the representatives enter. In this way, there is less chance of any human error in generating an indefinite quote. Moreover, it also offers automated management of orders and payments. Based on time and location parameters, it can segregate the product quotes into multiple orders.
Following that, the overhead operational costs also need some reduction to increase the revenue for the company. With Salesforce CPQ services, the sales team will develop a sense of efficiency, which will help in immense cost-saving! By speeding up the sales process, generating error-free quotes, meeting customer needs, attaining customer satisfaction, and monitoring reports using CPQ, it is now possible for brands to cut down some of their overhead expenses.
2. Compatibility with Cloud and Mobile Phones
Salesforce CPQ is based on Cloud and is compatible with mobile devices. Due to this Cloud integration, the Salesforce CPQ services have optimal security! The mobile-friendly design of this solution allows the sales representatives to access it on the go. They can prepare and send accurate quotes to clients or customers from anywhere and at any time. They only need an internet connection and a smartphone with the Salesforce CPQ tool.
With this feasibility, the customers or clients will have a good experience and rapport with your brand. CPQ intends to help you deliver the most personalized customer service and helps the representatives to meet their sales target on priority. If you want to get a detailed insight into the utilization of this solution, then you can hire a Salesforce CPQ consultant to help you out in the process.
3. Faster and Shorter Sales Cycle
The sales representatives lose their work momentum and pace when they spend a lot of time configuring the products or generating complex ones. As a result, this delay will keep postponing the deal closure, and the company will have to pay the price with lowered productivity.
The stress levels of sales representatives are often high when your company is on the final few days of deal closure. If they spend this leftover time guessing the quotes and making unrealistic product expectations, then things might go sideways. Therefore, it becomes really important for businesses to shorten their sales cycle.
Shortening or speeding up the sales cycle means improving executing the involved tasks throughout the sales process. Hence, this idea will help enhance your business productivity, and your company will eventually generate more sales. And this is possible with the inclusion of Salesforce CPQ for your sales team.
With Salesforce CPQ services, the representatives can configure the products easily by just implementing the business logic and rules. It can be stored in one location to make it easy for updates in the long run. Moreover, it will also be assisting in automating the quote generation process by requesting the representatives to just add the necessary data inputs.
The quote for complex products will be ready in just a few minutes, and the sales cycle will gradually shorten. Hence, the time required for closing the deals will ultimately reduce, as all of the other tasks are streamlined with Salesforce CPQ customization.
4. Guided Selling Improves the Upsell and Cross-Sell Aspects
Guided Selling is one of the most talked-about features of Salesforce CPQ. It allows the sales representatives to understand customers' unique necessities and demands and gain a competitive advantage. After integrating Salesforce CPQ into your business practices, you can eventually use it for meeting customer needs.
The purpose of Guided Selling is to determine what your customer needs. If your brand has a lot of services and products to offer to customers, but the sales team is confused about the customer's preferences, then this feature will come to the rescue. Guided Selling will cut through all unwanted information and give you the precise ones for determining customers' needs.
The sales representatives can prepare customized product quotes for respective customers. Apart from that, they can also start personalized communication with the clients/customers throughout all stages of a sales cycle. A brand's sales rate can be boosted with the ideal suggestions for the right mix of services and products for a targeted audience. Eventually, your business will get more clients and customers to build your successful base.
5. Intelligent Analytical Assistance and Automated Reports
One of the several capabilities of Salesforce CPQ is to integrate the entire sales process with the software and applications that boost sales profitability. Hence, this kind of integration will help your sales representatives make better decisions to boost the company's profits. For instance, you can integrate Salesforce CPQ with built-in tools such as Salesforce Einstein Artificial Intelligence.
With this integration, you will apply logic to improve sales efforts and collection practices. It will also assist you in adjusting the price by depending upon some of the external factors, such as market trends and rates. Not just that, but with the CPQ integration, you can also get automated reports upon the profitability and performance of your sales. The representatives just have to leverage the full potential of the CPQ tool to access its features for business profitability.
Conclusion
These are the reasons that explain the potential of Salesforce CPQ in the modern-day business world. This solution by Salesforce is being utilized by the sales team of big established companies. And the trend has now reached small and start-up companies as well. The brands are now willing to utilize this new tool for improving sales standards.
CPQ by Salesforce will create a better journey of increased sales for the representatives and the company. As a business owner, you need to upgrade your existing practices to modern-day solutions to stay ahead in the trend line.
GetOnCRM Solutions provides dedicated Salesforce consulting services to clients. We help in successfully increasing the revenues of the business. We help in the proper and effective maintenance of the Salesforce CPQ services of organizations.