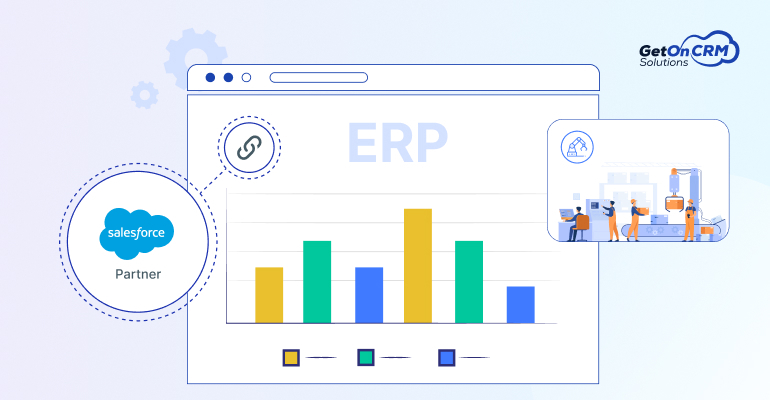 How to Integrate Salesforce with Your Manufacturing ERP System
July 10, 2023
12 minutes
496
Integrating systems is becoming integral to modern business operations, particularly manufacturing ones. Businesses – particularly manufacturers – must leverage comprehensive platforms like Salesforce and Enterprise Resource Planning (ERP) systems to boost operational efficiency, enhance customer service, and promote overall growth. This guide offers an in-depth examination of Salesforce integration by offering step-by-step directions with best practices and real-world examples.
Understanding Key Concepts

Defining Salesforce Integration 
Salesforce integration involves connecting the Salesforce Customer Relationship Management (CRM) platform with other systems to create a unified, well-coordinated working environment. The integration allows data synchronization across multiple platforms, promoting efficient workflows and robust analytics.
Exploring ERP Integration 
ERP integration refers to unifying an ERP system with other business applications or software. ERP systems streamline business processes by combining customer management, human resources, business intelligence, financial management, inventory, and supply chain capabilities into one system.
Revealing the Significance of Salesforce ERP Integration for Manufacturing
Salesforce ERP integration gives manufacturing businesses a unified view of customer data and operational processes. This synchronization allows real-time visibility, improved decision-making, and enhanced customer relationships.
In-Depth Look at Salesforce and ERP

Salesforce, a leading Customer Relationship Management (CRM) solution, and ERP, or Enterprise Resource Planning systems, form two significant components of modern business operations. A synergistic integration of these two can help businesses streamline their processes, make informed decisions, and improve customer service.
Salesforce excels in managing customer interactions, tracking leads, and monitoring sales, among other customer-centric operations. On the other hand, ERP systems excel at managing internal processes like production, inventory management, financial planning, and human resources.
By integrating these two systems, businesses can leverage their strengths and eliminate weaknesses. But how can you ensure you're maximizing the potential of these platforms? That's where experts like GetOnCRM come in.
As a Salesforce Silver Consulting Partner, GetOnCRM provides tailored solutions to help businesses fully harness the power of Salesforce and its integration with ERP systems. Their expertise and vast experience in this field can help your business streamline processes, make informed decisions, and improve customer service.
Core Features of Salesforce 
Salesforce, the world's leading CRM, provides numerous features that facilitate sales management, customer service, and marketing automation. From contact and opportunity management to analytics and application building, Salesforce is a one-stop solution for managing customer relationships.
Core Features of Manufacturing ERP
A Manufacturing ERP system offers modules such as inventory management, product planning, purchasing, and quality management. It streamlines manufacturing processes by providing real-time data about shop floor operations, thus aiding in forecasting and decision-making.
How Salesforce and Manufacturing ERP Complement Each Other 
Salesforce's strengths in managing customer relationships and ERP's prowess in managing operational processes provide an end-to-end business solution. The integration helps companies improve their sales forecasting and gain complete visibility into their supply chain and production processes.
The Need for Salesforce and ERP Integration

Enhancing Operational Efficiency through Integration 
Salesforce and ERP integration helps to avoid data duplication and promote efficiency through automated data transfer. The improved data accuracy reduces manual intervention and errors, increasing productivity.
How Integrating Salesforce with ERP Improves Customer Service 
The integration provides a 360-degree view of customers, combining sales data with operational data. This enriched perspective allows businesses to deliver personalized customer service, respond quickly to customer requests, and predict future customer needs.
Importance of Salesforce ERP Integration in the Manufacturing Industry
In manufacturing, Salesforce and ERP integration can streamline processes, reduce lead times, and enhance product delivery. It offers real-time insights into customer needs and operational capabilities, helping manufacturers align their production with market demand.
Steps to Integrate Salesforce with ERP

Initial Assessment and Planning 
Before integration, assess your current system, identify gaps, and establish your business requirements. Create a detailed integration plan specifying the data and the process flows to be automated.
Identifying the Right Tools for Salesforce ERP Integration
There are numerous tools available for Salesforce and ERP integration, such as Jitterbit, Mulesoft, and Dell Boomi. Choose a tool based on your unique requirements, budget, and technical capabilities. Consulting with an expert like GetOnCRM can help you choose the right approach.
Process Mapping for Successful Integration 
Defines the process maps to outline how data should flow between the systems. This step is crucial in ensuring seamless integration and user acceptance.
Technical Implementation: From Theory to Practice 
After planning and mapping, commence the technical implementation. Depending on your chosen tool, this could involve coding or using a drag-and-drop interface. Conduct extensive testing to ensure the integrated system functions as intended. GetOnCRM's team of experts can aid in this technical implementation, ensuring a smooth transition and avoiding potential hiccups.
Regular Monitoring and Optimization 
Post-implementation, regularly monitor and optimize your integrated system. That will help you get the most out of your Salesforce and ERP integration, ensuring it continually meets your evolving business needs.
Best Practices for Integrating Salesforce with ERP

Ensuring Data Accuracy and Consistency 
Maintain a standardized data format across both systems to ensure data consistency and accuracy.
Enhancing System Security During Integration 
Protect your data by applying robust security measures during the integration process.
Achieving Real-Time Data Synchronization

Aim for real-time data synchronization to provide users with up-to-date, accurate information.
Planning for System Updates and Maintenance

Regularly update and maintain your system to ensure optimal performance and leverage new features.
Salesforce Integration Cloud for SAP

Understanding Salesforce Integration Cloud 
Salesforce Integration Cloud allows businesses to connect any system, application, or device to Salesforce. It enables companies to create a unified view of their customer data.
Why Salesforce Integration Cloud is Optimal for SAP Integration 
The Salesforce Integration Cloud simplifies integrating SAP with Salesforce. It provides a pre-built connector, making it easier and quicker to set up the integration.
Steps for SAP Integration with Salesforce using Salesforce Integration Cloud include:
Planning your integration.

Configuring the Salesforce Integration Cloud for SAP.

Mapping data and processes.

Conducting tests.

Implementing and monitoring the integration.
Real-World Examples of Successful Salesforce ERP Integrations

Manufacturing Industry Case Study 1: Salesforce Integration with SAP 
An global manufacturing corporation faced challenges bridging the gap between its sales team's activities and production processes. They decided to integrate their Salesforce system with SAP ERP.
Post integration, sales reps could now see real-time inventory data and production timelines within Salesforce. On the other hand, the production team could foresee demand based on sales forecasts, which were directly pulled from Salesforce. That resulted in better coordination, reduced lead times, and improved customer satisfaction.
Manufacturing Industry Case Study 2: Custom ERP Salesforce Integration
A USA-based mid-sized manufacturer was using a custom-built ERP system. They wanted to integrate it with Salesforce to leverage the strengths of both systems.
With the help of a custom Salesforce API, they achieved seamless integration. The sales team could now access all the product, pricing, and customer information from the ERP system directly in Salesforce, resulting in improved sales processes and better decision-making. Also, the integration allowed the company to automate several manual processes, improving overall efficiency.
Manufacturing Industry Case Study 3: Salesforce Integration with Cloud-based ERP
A UK based small manufacturing business already used a cloud-based ERP system. They chose Salesforce for their CRM needs and integrated the two systems using a cloud integration tool.
This integration led to real-time data exchange between the systems, improving the company's response time to customer inquiries. The unified view of customer data from Salesforce and operational data from the ERP system helped the company provide personalized customer service.
Salesforce and ERP integration can be a game-changer for manufacturing businesses. It streamlines processes, improves customer service, and provides a unified view of business operations. By following the steps and best practices detailed in this guide, businesses can successfully integrate Salesforce with their ERP system and unlock their full potential.
At this point, it's crucial to highlight the role of seasoned experts in ensuring the success of your Salesforce ERP integration. As a Salesforce Silver Consulting Partner, GetOnCRM brings deep expertise and experience handling integration projects. GetOnCRM can help you in every step of your Salesforce and ERP integration journey, from initial assessment to post-implementation monitoring and optimization. 
With Salesforce for manufacturing , business can seamlessly combine the power of Salesforce and your ERP system. The harmony between these two systems, under the expert supervision of GetOnCRM, will facilitate superior operational efficiency and remarkable customer service, paving the way for your business to thrive in the competitive manufacturing industry.
Frequently Asked Questions

Can Salesforce be integrated with ERP?
Salesforce can be integrated with a variety of ERP systems. This integration facilitates efficient data sharing and process automation, creating a unified business system.
What ERP systems does Salesforce integrate with?
Salesforce can integrate with various ERP systems, including SAP, Oracle and Microsoft Dynamics. The choice of an ERP system ultimately depends on your company's requirements.
What are the ways to integrate with Salesforce?
There are multiple approaches to integrating with Salesforce: pre-built connectors, and integration platforms are an option, or custom API integration may also be developed as necessary, depending on the complexity and technical expertise available to your business process. The decision on how best to connect depends upon both these considerations.
How do you integrate an ERP system?
Integrating an ERP system involves several steps, including planning, selecting the necessary integration tools, process mapping, technical implementation and ongoing monitoring and optimization. Integration requires technical expertise and a solid understanding of business processes that must be integrated.