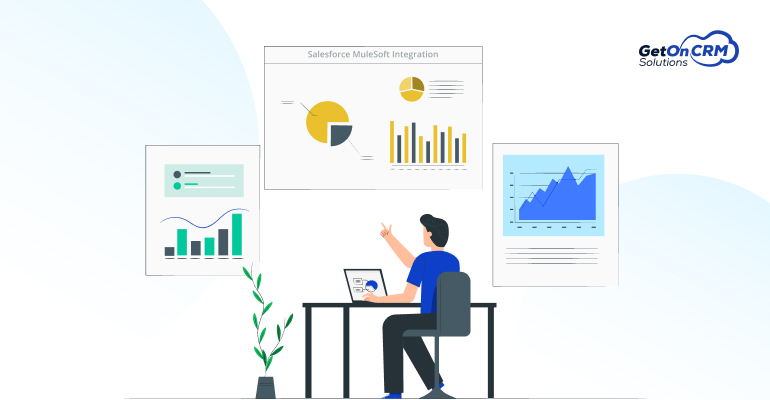 How Can Salesforce MuleSoft Integration Enhance Your Business?
December 26, 2022
11 minutes
1104
Salesforce is a complete CRM system that keeps your customer database safe and works best. Organizations have relied on this well-known software for years to simplify work and boost ROI. Although Salesforce has many great Salesforce integration features, with GetOnCRM salesforce integration some services work better when integrated with another platform, like MuleSoft. MuleSoft aims to speed up business development by providing data, apps, and devices.
Through APIs, the market-leading Anypoint Platform from MuleSoft makes it possible for thousands of businesses to establish application networks. Utilizing application organizations to get information assists firms with laying out new revenue sources, working on functional products, and improving shopper encounters. An API, SaaS, and SOA (Service Oriented Architecture) integration platform are the MuleSoft Anypoint Platform. It combines cloud and on-premises data, devices, and applications for unparalleled business agility for businesses of all sizes.
What is Salesforce MuleSoft Integration?

Salesforce MuleSoft integration is connecting Salesforce with other applications or systems using MuleSoft's Anypoint Platform. It allows data to flow seamlessly between systems, ensuring a consistent data view across the organization. The integration enables businesses to streamline processes, improve productivity, and enhance the customer experience.
How Can Salesforce MuleSoft Invest In A Seamless Business Integration?
Salesforce MuleSoft is an excellent choice for developing a solid business integration environment to provide an integration platform that keeps businesses connected. Organizations can quickly and consistently interface processes, applications, systems, services, and data on-premises and in the cloud with MuleSoft AnytimeTM.
Will integrate CRM solutions like salesforce CRM integration and many others with marketing applications, social media platforms, and messaging platforms like MS Outlook. Through SAP integration, associations can streamline transactions, offer assistance without local IT assets, and quickly onboard new partners.
Connectors that come to pre-built support Mulesoft. These packaged integrations are simple to use; The company will be able to maintain connectivity, creativity, and mobility thanks to the quicker establishment of B2B integration. Integrating businesses makes it possible to streamline company operations and increase productivity and efficiency. Additionally, the association can concentrate on its primary goals if its enterprise ecosystem is successfully connected.
How Can Companies Get Automated, Enhanced, And Customized Coding With Salesforce MuleSoft Integration?
Companies no longer value manual coding; instead, staff code internally with the help of any available integration tools. Digital businesses are on the rise. Integrations between Salesforce and Mulesoft have reduced the need for human coding. Without custom coding, you can now get a highly customized approach. You can easily select the features of the program you need and how you want to use them for your business.
How to Get Started with Salesforce MuleSoft Integration

If you're considering integrating Salesforce with other systems using MuleSoft's Anypoint Platform, there are a few steps you'll need to take:
Identify the systems you want to integrate with Salesforce

Choose the appropriate integration approach (point-to-point, hub-and-spoke, or API-led)

Test and deploy the integration solution

Monitor and maintain the integration solution to ensure it remains effective over time.
To ensure successful integration, there are a few tips you should keep in mind:
Choose the appropriate integration approach for your business needs

Ensure that all stakeholders are involved in the integration process

Test the integration solution thoroughly before deploying it

Monitor the integration solution to ensure that it remains effective over time

Continuously optimize the integration solution to improve its performance.
Common challenges that businesses may face when integrating Salesforce with other systems using MuleSoft's Anypoint Platform include:
Lack of integration expertise

The complexity of integration requirements

Resistance to change

Data quality issues

Security and compliance concerns.
To overcome these challenges, businesses should consider working with an experienced integration partner Like GetOnCRM, a salesforce silver consulting partner; we can provide the necessary expertise and support throughout the integration process.
What Are The Benefits Of Salesforce MuleSoft Integration In Businesses?
1. Less Dependence
Coding for such complex connections necessitates true specialists; not everyone can code. Throughout the process, you will rely heavily on the developer, whether you outsource or manage it internally. Automation from Salesforce MuleSoft solves this problem; salesforce integration is significantly streamlined.
2. Money And Energy Savings
It takes a long time to code software, especially complex ones like Salesforce, which saves energy and money. For this complex, tedious programming, skilled IT developers charge a premium. MuleSoft's automated coding eliminates that expense.
3. Error Reduction
Reduction of errors Humans, like computers, cannot guarantee zero errors. Platforms that are automatically coded are less likely to make mistakes than systems that are manually programmed.
4. Boost Agility
You can quickly add additional systems, devices, applications, and data sources by connecting to Salesforce MuleSoft. You can seize opportunities that require immediate action and respond quickly to shifting market conditions.
5. Enhance Project Worth
The joining can frequently bring down QA and after-creation medicinal costs while further developing QA. Your team can also reduce errors with the help of advanced tools like the visual debugger, auto testing, and reusable assets.
6. Upgrade With Ease
Manual coding for such unpredictable associations will regularly keep you from staying aware of quick mechanical advances. Even minor updates would necessitate additional resources and time. You can make your system more modern in seconds by connecting it to Salesforce MuleSoft.
7. Easily Connect And Reuse Data, Apps, And Services
Using This Single Platform, Data, Apps, and Services can be easily connected and repurposed. In addition, you can securely connect to any data source, including databases, SaaS applications, mainframes, and ERP, without incurring costs or having to deal with the limitations of rigid point-to-point connections.
8. Retain And Inspire Customers
Customers adore a personalized experience; Pass it on to them. Increase customer loyalty and predict future demands. Using an omnichannel strategy and Salesforce MuleSoft, you can grant your team access to consumer data anytime and from any location.
9. Reduce Security Breach Risks And Costs
End-to-end governance ensures compliance with municipal, regional, and industry regulations and sophisticated security measures. Salesforce MuleSoft guarantees the confidentiality and integrity of the data you exchange.
10. Adaptable And Versatile
The salesforce MuleSoft arrangement energizes development, and quick reception of the Programming interface drives incorporation – opening fortunes of information from data sets. Thanks to the Salesforce Service Cloud effortlessly, you can view this treasure trove of data in a single view. Your endeavour can rapidly lay out versatile and versatile application networks that meet the present complex availability needs.
11. Prepare For The Future
The integration of Salesforce MuleSoft will also position you for success in the Future. The Crossbreed coordination stage has Programming interface driven associations that permit you to move to cloud or multi-cloud without reworking applications or purchasing new apparatuses. Adapt to new platforms, technologies, or designs.
12. Reduced Maintenance Costs
The simplicity, visibility, one management pane, governance, reusable assets, and simplicity of Salesforce MuleSoft all help reduce maintenance costs. It utilizes APIs to redesign old frameworks effectively.
Conclusion
One of the most significant strategic business decisions and moves you should consider is the Salesforce MuleSoft Integration. However, getting to the finish line may necessitate some technical expertise. GetOnCRM Salesforce integration services are on hand to help guide you there. In today's fast-paced and fiercely competitive World, adopting automated innovations such as the Salesforce MuleSoft platform will make you stay ahead of the curve, meet customer needs, generate new revenue streams, and stay ahead of the competition.