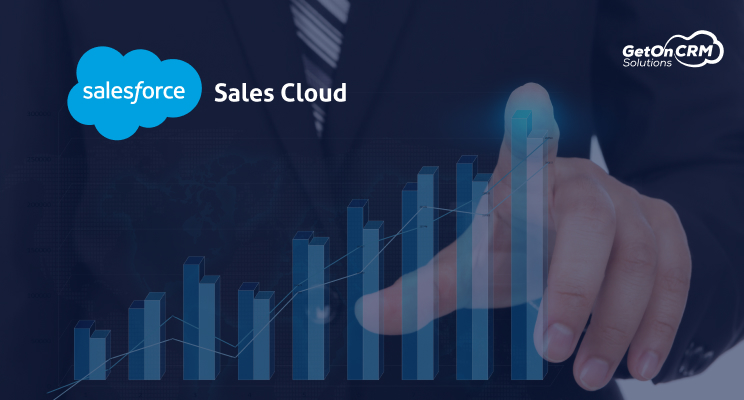 5 Ways To Achieve Your Sales Goal With Salesforce Sales Cloud
November 7, 2022
8 minutes
691
One of the most important aspects of a successful business is sales. Providing your sales team with the appropriate resources and tools will go a long way toward assisting your company in achieving a number of its sales, marketing and revenue-related objectives, including increased revenues, enhanced customer engagement, and effective sales budget spending.
Salesforce Sales Cloud is one of the tools your sales team should have on hand. It is a well-liked CRM solution that helps businesses with their sales efforts. Salesforce sales cloud can help you better understand your customers, giving a 360-degree view of their lifecycle, streamlined workflows, centralized and enhanced data management, and linked systems.
It has a cloud platform ecosystem that lets you interact with various data types and serve customers in various ways. Your business will greatly benefit from utilizing Salesforce Sales Cloud to support your sales team. There are 5 ways of achieving your sales goal with the salesforce cloud, which are discussed below.
Also Read: Elements Of Salesforce Sales Cloud To Accelerate Your Business Growth
What Are The 5 Ways Of Achieving Your Sales Goal With Salesforce Sales Cloud?
1. Making Use Of The Platform's Customization Options
One of the many reasons businesses choose Salesforce Sales Cloud over other CRMs is its high level of customizability. A customized CRM system like Sales Cloud allows you to scale sales processes, increase efficiency, and respond quickly to changing customer needs. Sales Cloud provides a selection of user-friendly dashboards, apps, and profile designs that can be adapted to the work methods of salespeople.
With the help of Salesforce consultants, you can create custom processes, apps, and objects for tracking deals more systematically. Pre-sales management, lead nurturing, quote management, and other functions can all be designed for the app. A company can also create software to support sales, especially for their salespeople, giving them access to information while in the field. These are just a few of the many ways that Sales Cloud can be tailored to your needs.
2. Using Workflows To Automate Sales-Related Tasks
With Salesforce Sales Cloud Integration, you can automate your manual tasks using the built-in workflows. Because it enables you to simplify your day-to-day tasks while maintaining the momentum of other deals, automation is essential in maximizing the capabilities of Salesforce Sales Cloud and achieving your sales objectives. Automate everything from lead assignment to quote management and report production with the Salesforce Sales Cloud.
Workflows can automate most tasks and related business procedures, like changing prices and getting approval for travel records, reports, etc. Because of this automation, the team can improve sales, which is what they should be doing. Based on the data they get from Sales Cloud's automatic approvals and processes, they can make better decisions quickly and effectively. This empowers them to focus more on social events, supporting, checking, and transforming leads. To get the most out of your Sales Cloud investment, drag-and-drop menus, Chatter feed approvals, and other features enable process customization.
3. By Optimizing Einstein, You Can Make Smart Decisions About Sales
For your sales representatives to make the most of their time, you must provide them with insightful recommendations and data insights. Artificial intelligence has been integrated into the devices your salespeople use daily by Salesforce. Salesforce Sales Cloud Integration offers Sales Cloud Einstein, which creates a lead pipeline by combining AI with data analysis and decision-making.
With the assistance of Einstein, the salesforce sales cloud expert Lead Scoring; it will be simpler to prioritize leads with the highest likelihood of conversion. Data from completed sales cycles can produce information for sales representatives who require sales advice. Einstein's Opportunity and Accounts Insights feature provide details that can simplify the process and monitor active and potentially risky transactions.
4. Make Use Of The Power Of Sandboxes To Grow
Before implementing changes to business workflows or new customizations for day-to-day operations, sales teams use Salesforce Sales Cloud to test them. Salesforce's workflow must be optimized and updated frequently to ensure smooth operation. A successful salesforce sales cloud implementation aims to guarantee uninterrupted workflow operation. When the workflow is tested, jobs running on the Salesforce Sales Cloud platform won't be affected in any way. Sandboxes emerge as an effective solution in this regard.
Consider testing new procedures in a sandbox rather than a live system whenever you consider introducing something new. These sandboxes are a great way to test new changes without causing major disruption or affecting existing systems. Sales Cloud provides a variety of sandboxes for every professional involved in the sales process, including administrators, coders, and others.
5. Get Advice From The Experts
The first crucial step to faster sales goals and business expansion is using Salesforce Sales Cloud's key features. On the other hand, Salesforce sales cloud expert Services are here to up your sales game and boost your productivity if you want to use Salesforce Sales Cloud to its full potential. The many resources, services, and tools that Sales Cloud provides can help you move things along more quickly.
One of the best ways to start is by implementing one of the available strategies for success. The education, guidance, and assistance you need to achieve your goals are all included in every success plan that is provided to you. As soon as you sign up, you can access the standard success plans, which are easy to understand.
Also Read: How Salesforce Sales Cloud Can Help Enterprises To Increase Their Sales Productivity
Conclusion
Sales is still an important part of running a business. Giving your sales team the tools and systems they need to do their job better is part of giving them more power. One of the tools that help your sales team is the Salesforce Sales Cloud, which makes it easier to work together, access real-time data, and manage customer relationships better. A company's decisions determine its success, and the salesforce sales cloud implementation aims to make people's lives and collaboration easier.
You can increase the productivity of your sales team and track your sales activity with this platform. In general, it gives entrepreneurs the best of both worlds: a rise in revenue and efficiency. As a result, the sales cloud is the best choice if you want to manage and increase your company's sales. Get unparalleled results by immediately incorporating the Salesforce sales cloud services into your business sales strategy.
Salesforce Sales Cloud has many benefits for different industries, like how it can create better compliance for insurance businesses, increase lead conversion for fintech businesses, and create a better stock handling and sales strategy for FMCG businesses. Salesforce Sales Cloud is not just beneficial for a particular business but can have a significant impact on the industry.