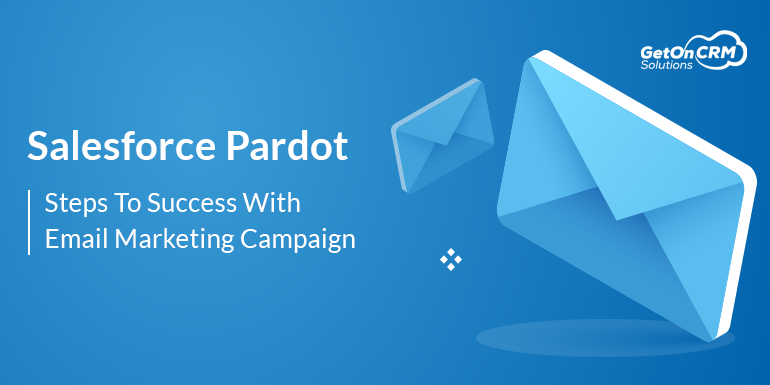 Salesforce Pardot – Steps To Success With Email Marketing Campaign
December 15, 2020
6 minutes
1204
There might be a range of digital marketing strategies, but email marketing is certainly considered one of the most profound of all. It is more result-oriented. The best part, it is quite easy to track the campaigns through this strategy. Things have gone way lot interesting on this matter through the advent of marketing automation. When it comes to marketing automation, tools like Salesforce Pardot are certainly the most preferred one. However, it is true at the same time that not everyone using Salesforce Pardot is witnessing an equal level of success.
Exploring the Feature Called 'Campaigns'
There is an incredibly creative feature called 'campaigns' that comes built-in with the tool. This enables the facilitation of smooth communications of marketing. Smoothening being specific here depicts the ease it provides in planning, organizing, and gauging the campaigns. It also enables to add several emails in a campaign; rather, in every campaign one employs.
Thus, it helps the user in keeping track of the success level. Specifically, it works incredibly while campaigning for fresh products. All that one needs is to ensure is about including a proper description of the campaign, an explicit campaign code, and the tags for better categorization by including any number of criteria.
Best Use of Pardot Segmentation Rule
The best way to deal with audience segmentation will be to make use of the Pardot segmentation rule. It is way simpler than often perceived. It's common sense that when one has signed up being keen about receiving promotional emails concerned with a specific kind of product, then only the promotional emails as per his/her interest should be delivered.
Salesforce makes things simpler in this context by including data filters. This enables the user in segmenting customer lists. There is also a feature called "measures." It can be set as a criterion as part of the data filter to further segment the line-up of subscribers. Primarily it can be effective for aiming the most relevant customer with a greater possibility of accessing the site.
Ease of Preparing Personalized Contents
Salesforce has been incredibly effective in terms of personalizing the campaigns through the help of segmentation. One type of personalized content used in this is called personalization strings, which involves subscriber details, like their names. The other type is called dynamic content that primarily appears as per the norms defined according to the subscriber's characteristic. When a customer is keen about a specific product, he/she should be shown products as per his/her interest within the zone of dynamic content.
Make Most of The User-Friendly Templates
An email is quite important to be structured or designed well for making a significant impression. Irrespective of the significance of the product or service, the campaign is bound to fail when the mail's structure or design is not good enough. The good news is that designing the mail in a catchy fashion is easy, with Salesforce being enriched with a huge range of responsive templates. The best part is that these are made as per the busy professionals' interest, enabling them to prepare creative content in the quickest time than imagined.
Keeping Track of The Clicks
With Pardot email campaigns, it is possible to keep track of the click-through custom redirects. This also triggers the process of automating finished actions. Ultimately, this assists in preparing an image of what every potential client is associated with and offers greater details. Upon being assigned with Sales, a much detailed history about the intuitiveness can be obtained. Naturally, the salesperson can indulge in a better relationship.
Make Most of The Custom Redirects for Collecting Google UTM Details
Custom redirects can be used for obtaining greater details of Google UTM. These details can be useful upon being combined with Google Analytics. Most importantly, it helps in getting details of mails, facilitating greater conversion for the specific site. It is crucial to ensure that every entry point for Pardot data shows the source in this context. It's crucial as when a mail signals anything positive; one should attribute the ROI to its source.
Conclusion
Following the best methods for Pardot campaigns from the beginning, the best methods help the sales team be analytic about connectivity through email. Most importantly, it brings clarity about engagement aspects with the potential customer.
GetOnCRM has some of the finest Salesforce Pardot consultants to lend you a hand in boosting sales with Pardot at every step in your sales implementation process. We aim to assist clients with Pardot services to deliver lightning-fast solutions. Our consultants can also provide counsel to ensure maximum profitability and ROI.