Create Bookmark using Favourite in Salesforce Lightning
June 5, 2017
2 minutes
2585
If you're acquainted with customizing tab sets in Salesforce Classic, you'll welcome the way you can personalize your Lightning Experience navigation with Favorites. This feature is new in Lightning Experience.
Favorites allow you quick access to important records, lists, dashboards, groups, and other frequently used pages in Salesforce. They're like bookmarks in a web browser but better because your Favourite are available regardless of which browser or computer you use to log into Lightning Experience.
Click on the star (
) to add the current page—for example, all open leads—to your Favourite. A highlighted star shows you're on a favorite page. To remove a favorite, click on the highlighted star. Your saved Favourite are just a click away in your Favourite list, where you can find and manage all your Favourite.
Each favorite will show the name, record type, and the app name (at times when the favorite is not in your current app). Whenever you open a favorite that's in a different app, you will switch to that app.
The navigation bar also provides quick access to frequently used Favourite in your current app for certain items, like opportunities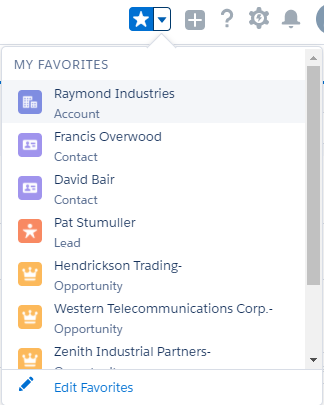 Tip: You'll see your top Favourite in the navigation bar and in your Favourite list after you start using Favourite .
Keep these considerations in mind while working with Favourite .
You can have up to 200 Favourite , which support following types of content.

Record home for standard and custom objects (including Visualforce overrides of these record views)
Dashboards
Lists
Chatter groups
Reports
FYI: You cannot favorite list views on the Reports, Dashboards, Files, Tasks, and Notes tabs. You also cannot favorite Visualforce overrides of list views and individual Chatter posts.

You cannot favorite things in Console apps and setup pages, however you can still access your Favourite from these areas.
Only individual users can manage Favourite . They can't be shared or edited by Salesforce admins.