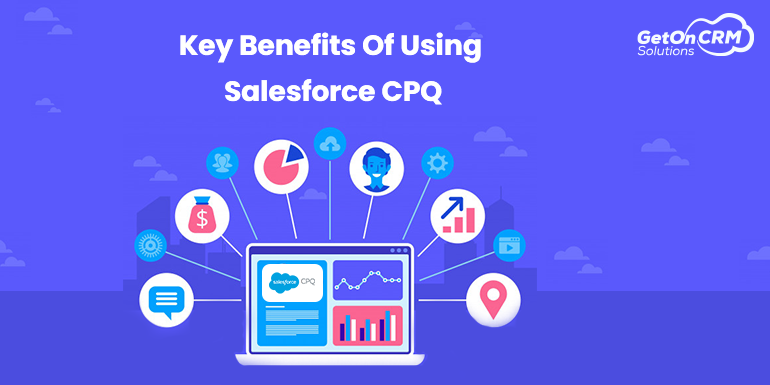 Key Benefits Of Using Salesforce CPQ
September 23, 2020
9 minutes
1562
Configure Price Quote software or CPQ software, is primarily a sales tool meant for helping the organizations in developing flawless customized sales quotes. The tool achieves this by taking the entire pricing and customer detail within a centralized platform, which can be used practically.
It means it's just a matter of click for a salesperson to develop and share quotes. Moreover, it prepares quotes in the most detailed, precise, and as per the client's need. The quote generation process gets faster by removing the unwanted process by appearing at different levels of sales. It prepares quotes in a personalized fashion as per the client's specific needs.
In the following abstracts, the key benefits of Salesforce CPQ have been covered; those should be leveraged by the sales team for greater productivity and efficacy. Companies making most of Salesforce CPQ are proven to boost the size of their deals to a great extent.
"Companies that implement Salesforce CPQ software increase their average deal size by a staggering 105%"
Access of Customer Data Enables Smarter Sales
Salesforce CPQ employs a stepwise strategic approach guiding the sales professionals all through the process. It is certainly a handy feature for the tyros who are having no prior experience in the concerned industry. A batch of questions can be created for allowing sales professionals to access customer data. As per the responses, the tool enables sales professionals to generate exact quotes with greater flawlessness.
Making the Process Automated
Those not well versed with CPQ for quote generation or simply not using CPQ should understand that their productivity is getting affected to a great extent. CPQ enables sales professionals to develop explicit proposals using high-end templates for preparing documents the way it should be prepared.
Ensures Greater Accuracy
Through Salesforce CPQ, a sales representative can swiftly prepare quotes of ultimate accuracy. It also guarantees about exact pricing and desired level of pricing. Moreover, the approvals can be thoroughly automated as it is desired. Through the process, CPQ prepares exact quote documents comprising exact collaterals, which can be coupled with eSignature associates for enhanced purchasing.
Increases Productivity
CPQ guarantees about minimizing errors to a great extent for the sales representative and lower the lead time. It makes the sales quotes perfectly personalized in a much-optimized process. Real-time quotes can be generated by superior flawlessness. It thus minimizes the needs of the annoying process of going back and forward, ensuring everything occurs in a seamless fashion as possible. Obviously, it thus turns the meeting conduction process thoroughly optimized and strategic. In fact, it makes the process of deal closing equally smooth and streamlined as well.
Boosting Sales with Smarter Quotes
One of the biggest boons of Salesforce CPQ is its ability to leverage process automation in the most effective fashion. Starting from generation of invoice to the ultimate process, everything can be automated through this. Having the high-end features enriched with AI integrated with the platform, it gets easier for strategizing. It brings clarity with decision-making process whether any advanced strategy should be employed for collection purposes. In addition, the CPQ tool also lets the enterprises customizing the pricing aspects keeping the outside factors in mind.
Greater Assessment of Profitability
Salesforce CPQ is indeed one of the finest tools to have an assessment of profitability. It does this by providing perfect features for analysis of sales structures, deal-making analysis, etc. All these help the concerned salesperson in providing commercially useful and lucrative quotes in an optimized process.
Making Deals More Valuable
Any company, irrespective of its size, would wish to boost its sales or simply to generate greater profits. And, Salesforce CPQ enables them perfectly in this regard by offering distinguishing features and thus delivering superior level performance. There are many Salesforce reports suggesting that those companies employing Salesforce CPQ can boost the average deal size by a whopping 105%.
Generating an Optimised Contract
When the contracts are prepared by sales representatives, the quote line prices can be used by them from the original one on over the future as part of the account of the contract. The mode of contracted pricing is handy in those cases when sales team has fixed a price and interested in going on with the same even post-contract generation. This negotiated price can be made use of by Salesforce CPQ in fresh quotes, the renewed ones, etc.
Providing Customer Satisfaction
Through Salesforce CPQ, many personalized quotes can be generated for the clients providing a greater level of customer satisfaction. As the clients go for redefining the purchases and when discounts are applied, a sales representative can prepare high-end quotes when desired. Reports of Salesforce claim that 50% of customers are interested in sharing handy personal detail to those enterprises interested in customizing sales quotes.
Reducing Sales Cycle to A Great Extent
One of the prime benefits of the Salesforce CPQ software is its ability to let the users in making most of the time expended. Through the process of automation of quote, CPQ cuts the downtime usually related to generation of contracts. It enables the sales representatives to generate greater leads in nominal time. Studies suggest that companies using CPQ software can witness a significant cut of 28 percent of its sales cycle. Reports of Aberdeen Group suggests that implementing Salesforce CPQ increases proposal volume to 49% for each representative in a month.
Equally Effective for Admin Team as Well
All these mentioned above benefits combining contribute towards the growth of sales for the organizations investing in advanced Salesforce CPQ. Best part, this is not just applicable for any specific industry, but for every industry, irrespective of its scale. All that needs to be ensured in this context is that the Salesforce CPQ must be thoroughly configured. It not just can be useful for sales team but also for those associated with admin team, enabling them to have greater control and thus enjoying competitive advantage.
Ultimately, the prime aim, i.e., to attain a deal that can be suitable for all, can be very well achieved through the implementation of a well-configured Salesforce CPQ. It's not just a claim but is quite proven.
Are you looking for a Salesforce CPQ Consultant? GetOnCRM Solutions is a global Salesforce silver consulting partner based in California (USA), with offices in Canada and India. At GetOnCRM Solutions, We help customers to get their CRM off the ground with a professional implementation process catered to their specific needs. Contact us for any Salesforce requirements.