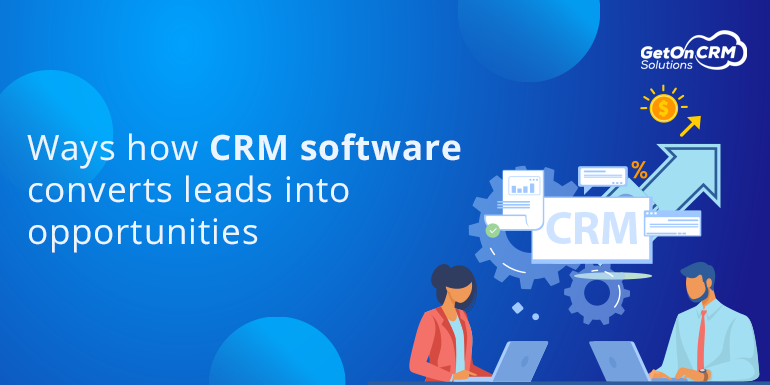 Ways how CRM software converts leads into opportunities
January 28, 2021
8 minutes
1037
Cloud CRM is the new opportunity for businesses to convert their leads into potential customers and bring in sales opportunities. All good businesses intend to get more leads and convert them into paying customers to ensure better business.
Cloud CRM is one such ideology that brings in better opportunities for you to convert your leads into sales. Today, tracking customers for most businesses is difficult and knowing their behavior towards your business plan is crucial. Customer Relationship Management Software acts as an ideal tool for creating a simple UI for data collection for businesses to recognize their customers' behavior more productively.
In this article, you will know about some of the best ways to leverage the lead conversion opportunities using CRM.
1. Centralized Accumulation of Customer Data
With the use of CRM software, you can be ensured about collecting all the data in a single centralized portal. It stores information in one place to let the respective person access it from anywhere. Hence, it helps in better analysis of the data by integrating it with different plugins or tools.
In addition to that, CRM can generate instant and automatic reports to better track customer behavior aspects. The companies prefer using these strategies for meeting the higher profit goals by taking measures that would support better conversion of leads into consumers.
2. Use The Analytical Marketing Strategy of CRM
CRM offers you an analytical view of every lead by automating the process of tracking, managing, marketing, and even selling to the customers. CRM allows you to track and manage the marketing campaigns and see the success rates it.
All marketing strategies can be tracked and managed, such as social media campaigns, email marketing, outbound calls, etc. CRM is meant to automate all these efforts and implement the right analytical strategy for driving progressive results. It helps you measure, improve, and generate more sales.
3. Reporting and Monitoring Measures of CRM
CRM Solutions are meant to give you and your sales team the right tools and details for making your closing sales faster. With CRM, you can monitor your sales performance that you can keep track of from the interactive dashboards. It can help simplify the daily tasks and manage all the marketing activities.
You can manage the calendars, appointments, opportunities, and engagement with social media channels. There are interactive reporting filters that will filter the data and show you only the productive ones for your business. Keep a real-time track of your sales performance, and the CRM tools will help forecast information.
The reporting delivery is automated over CRM, and it will help give you deep insight into sales and lead management. Hence, it will help you enhance your business processes for better lead management.
4. Better Lead Understanding Prospects with CRM
CRM can store the data of all leads and create specific reports to display to you the components that interest the leads. CRM will help you narrow down the leads that fit within your sales pipeline. With this tool, you can also customize your lead reports through automated measures and manage them all as per the sales pipeline.
CRM automates major aspects to acknowledge, analyze, manage, market, and finally sell the leads' products and services. Hence, CRM is meant to offer complete lead relationship management.
5. Adapt Efficient Customer Service
The customer's history and interaction will be accessible by the managing team of the business. By taking note of customer communication and associated activities. Moreover, through this tool, customer interaction is possible for ensuring satisfaction from the consumer's point of view.
Gaining a customer's loyalty will add fuel to your business, and CRM can help you navigate that aspect of your business to help you develop some of the best perks. It will eventually enhance your company's sales count, and the revenue generated will be higher than usual. Moreover, you will be able to convert your potential leads with convincing proposals for paying customers.
6. Team Work Potential with Clean Accessibility
The entire team can gain access to the lead database over CRM software. The departments can gain access to the dashboard and information from anywhere across the globe. CRMs are now coming with mobile access that allows the team to stay logged in all the time to attend to customer queries and questions.
For the designated projects on which the entire teamwork is required, CRM is the powerhouse that gives out complete accessibility over the lead database. It helps the team to convert leads and bring in better sales opportunities. Moreover, the team will also access lead reports to pass on the integration suggestions for ideal business measures to improve lead conversion aspects.
7. Discover The Referral Business Opportunities
With CRM, you can ensure about looking up the hidden benefits within the existing business relationships with clients and customers. You do not have to pay for the leads who are unwilling to invest or buy your products and services. Meanwhile, your team can use the data or information within CRM to leverage the existing consumers' hidden opportunities.
It will help your team save a lot of time in finding ideal customers from the recorded leads. You can plan out to reduce your approach towards the less interesting leads in your brand products and services. Instead, implement the time in narrowing down the requirements of the existing customers.
Wrapping Up
These are a few of the things that you need to keep in mind if you plan to integrate CRM for converting leads to sales. These are some ways to use CRM that can help you benefit from loads of sales opportunities derived out of the potential leads.
CRM solutions are now evolved to help businesses streamline their operations management. Not just that, but now they can store lead data, observe their behavior, and make sales proposals accordingly. You can also manage your marketing campaigns and their responses over CRM.
Are you looking for Salesforce consulting partner? GetOnCRM Solutions is a global Salesforce silver consulting partner based in California (USA), with offices in Canada and India. At GetOnCRM Solutions, We help customers to get their CRM off the ground with a professional implementation process catered to their specific needs. Contact us for any Salesforce requirements.