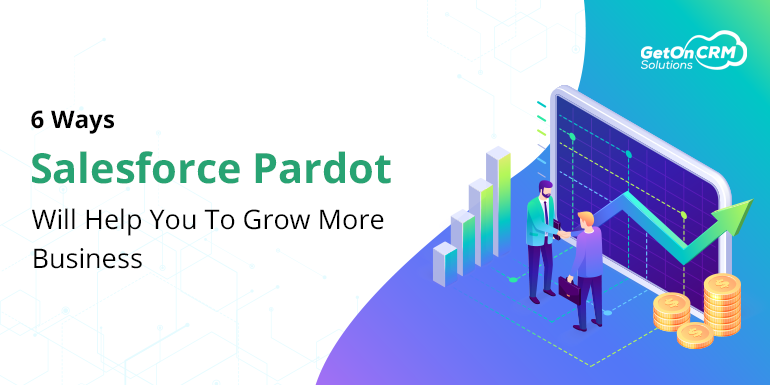 6 Ways Salesforce Pardot Will Help You To Grow More Business
August 3, 2021
6 minutes
945
Pardot needs no introduction. This is currently the most powerful automation software from Salesforce, offering a wide variety of features. It makes things way simpler to assess the marketing campaigns from a single place through the process. Salesforce Pardot implementation can tremendously help in the growth of a business.
It's a cutting-edge tool that is made thoroughly, keeping the needs of the marketers in mind. Starting from customer engagement, creating crucial networks, lead generation, and even closing the deals can be useful in all aspects. Anyway, the following abstracts throw more light on how Salesforce Pardot can be useful for the growth of any business:
1. Establishing Strong Lead Generation Strategy
Having a thorough plan for lead generation is crucial. It is moreover about creating landing pages, along with their forms meant for lead collection. Those interested in having significant results through their lead generation efforts should take landing pages into account. Salesforce Pardot can incredibly be useful in optimizing lead generation simply upon following a few easy practices. One may take the help of expert Salesforce Pardot consultants for these best practices.
2. Maintaining Thorough Sync among the Marketing Teams
Salesforce Pardot can be useful in terms of maintaining a perfect balance between sales, as well as marketing. To be specific, the account-centered marketing by Salesforce Pardot can be highly efficient in terms of greater sales generation. Thus, it becomes easier for the business groups to form proper alignment between the sales team and marketing team through greater customer retention and sales generation rate.
Bringing everything over the same platform enables the sales team to thoroughly help the marketers find the right person for the campaign. This makes things easier for keeping track of the leads while keeping the sales calls monitored seamlessly, as it can help know about the level of success of the marketing efforts. In short, Salesforce Pardot integration can provide that incredible clarity on business progress.
3. Streamlining Content Strategy
Modern-day businesses and marketers want quality content more than the bulk of it. It certainly is wise to generate greater business with only a fewer amount of content. And, Salesforce Pardot integration can thoroughly fulfill this demand. This one of the most powerful automation platforms is a massively popular tool for recycling content. Specifically, Salesforce Pardot is highly favored when the available resource is nominal. Be it about breaking the larger contents in smaller or distributing the same; Salesforce Pardot can be effective in all manners.
4. Insightful ROI Reporting
Needless to say, how valuable it is for the business groups to have comprehensive reports to assess the significance of marketing teams on revenue generated. After all, revenue is the most crucial factor for the B2B houses as far as marketing efforts and sales are concerned. Keeping the level of clarity it provides, salesforce Pardot pricing seems thoroughly justified for the business groups.
With Salesforce Pardot, it can be easily understood the way customers can remain in interaction with the campaign at each level. It enables the team leaders to form the bridge between marketing efforts. Moreover, it enables the sales team to do a thorough analysis of the actual value of ROI.
5. Boosting Social Engagement
To put efforts into improving social media is a tricky affair considering that one can't just go with any random trick and apply the same with every other social media platform. The followers over social media can get more confused when the thorough effort is not put in for a considerable time.
It is important to maintain a proper posting rhythm and must follow the same thoroughly. Salesforce Pardot can indeed be an amazing tool in this context that can ease down things greatly upon maintaining thorough scheduling plans of posting, even when you remain busy with another aspect.
6. Streamlining Email Marketing
Email marketing is a classic strategy that remains as significant as it was earlier. However, everyone knows that marketers often have to deal with emails in bulk while conducting email marketing campaigns. At the same time, the quality of the campaign is essential to be of the best standard. Salesforce Pardot can be thoroughly incredible from this perspective, coming with customizable designing features, as well as visual editors.
It makes things tremendously easy for marketers to design emails optimized to convey the right message to the target customer. One can automate the mails as well from future perspectives that can streamline the process thoroughly. Using the tool, one can make most of the things that he/she knows regarding the prospects to sort the database in the form of lists as desired.
Conclusion
All in all, Salesforce Pardot can be the all-in-one marketing tool offering top-notch CRM advantages in a highly productive fashion. Above all, it can be effective for businesses of all scales. Business groups thus are paying greater importance to hire Salesforce Pardot experts with significant experience to prosper in the business.
GetOnCRM Solutions has some of the finest Salesforce Pardot consultants to lend you a hand in boosting sales with Pardot at every step in your sales implementation process. We aim to assist clients with Salesforce Pardot services to deliver lightning-fast solutions.