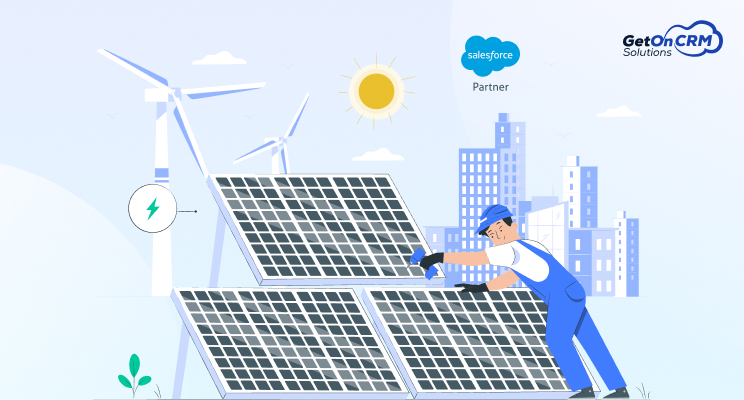 How to Use Salesforce to Meet the Specific Needs of Your Renewable Energy Business?
January 31, 2023
12 minutes
502
There are numerous opportunities for profitability and expansion in today's solar industry, which necessitates a robust platform that can fully automate sales and installation processes. Additionally, Salesforce implementation services make all of this attainable. It helps businesses connect to the specific energy requirements of customers and lowers costs. Globally, solar energy systems are developing faster, and demand for them is skyrocketing. Anyone can access the same level of expertise and sophistication as most large solar companies with Salesforce for renewable energy. Therefore, let's learn what the solar energy industry requires now, how to improve, and how Salesforce implementation can help.
Why does the solar energy business need Salesforce?
Standard Opportunity Objects are still used by many businesses to manage their solar system installation projects, which is not a good practice. It has numerous limitations, such as accessibility issues and numerous fields. Additionally, some have redundant users who must be removed. Choosing a Salesforce development company that can develop an engagement solution to simplify the transition of Organization from Classic to Salesforce UI is the best option in this case. For businesses in the solar energy industry to grow more quickly, there are some things they need to do.
1. Operations management
The Salesforce Field Force tool aids in the management of field force employees' operations, such as installation or service teams. Service resources can be assigned to specific projects through the sales or customer support cloud platforms, allowing for clear resource oversight.
2. Toolbox for marketing
3. Getting materials and resources
Salesforce can also manage orders for resources, materials, and inventory. These orders can be assigned to ongoing sales projects to control costs and deadlines.
4. Service after the sale and a warranty
Customer support inquiries can be handled with confidence using Salesforce Service Cloud. It is the weapon of choice for omnichannel customer support, in which customers can make requests online, over the phone, or even through social media. The platform supports the "one service window" principle and optimizes customer-centred work operations. Online self-service platforms and knowledge bases for customer support can also be built on the platform.
5. Online payment processing
Salesforce makes it simple to create order forms and callback requests. It creates an online order wizard for clients with smaller orders by adding project estimate calculators. Sales agents are automatically given larger clients. Salesforce lets renewable energy businesses quickly add e-commerce features and use online lead-generation channels. Creating multiple landing pages and forms that target distinct client groups is possible. Most importantly, all leads end up in the Salesforce Sales Cloud, which makes it possible to view all business prospects from a single location.
What are the reasons to adopt Salesforce for Your Solar Energy Business?
1. Features of the Salesforce CRM
Customers spend the most money, which causes businesses to fluctuate, rise and fall. You need a platform with a lot of features and lots of opportunities. You can use various CRM features to ensure sales success by utilizing Salesforce consulting services.
Consumers have a wide range of options in the highly competitive solar energy sector. Deal management carelessness can result in prospects being lost. Salesforce will assist you in monitoring the status of each activity and deal. You can easily make deals by paying attention to the best possible deals at the right time.
Solar projects will not attract purchasers on their own. To persuade them, follow-ups are necessary. You can easily reach potential customers and respond to their inquiries in real-time by automating follow-ups. Make smart use of your energy with sales automation. With Salesforce, you can automate your sales-related repetitive tasks in less time.
Salesforce allows you to gain insights into your sales to increase closure rates. This will let you know whether the sales graph is going up or down. Using a reporting tool, you can quickly gain insight and determine the causes of declining sales.
It might be hard for people to put money into solar installation projects. However, emails must be used to raise awareness. You can engage buyers and send informative emails using Salesforce by demonstrating the benefits. You must use email tracking to ensure that your prospects open all emails. It ensures that your email campaign is successful.
2. Mobile-Friendly
When your sales team meets with potential customers, they need to present the benefits of going solar to demonstrate the true potential of what you are selling. The mobile-friendly Salesforce CRM boosts productivity and offers sufficient flexibility.
3. User interface
The Salesforce CRM solution for renewable energy industry is quite convenient and simple to set up. The platform's user interface is simple and easy to understand. Your team will never have to spend time figuring out the dashboards because they are so easy to understand. Salesforce has the right balance of simplicity and information density.
Learn More About CRM Solution for the Renewable Energy Industry
4. Strengthening and expanding the ecosystem of partners
Customers, independent software vendors (ISVs), and third-party developers can develop, test, and deliver cloud-based applications with Salesforce's Customer 360 Platform. Software developers can market and sell these apps directly or through Salesforce's enterprise cloud marketplace, AppExchange.
Salesforce relies on its consulting partners to provide customers with technology solutions and expertise at any stage of their digital modification journeys, from large-scale performances to specific solutions that enhance industries run more efficiently. This is part of Salesforce's growth strategy. Salesforce can expand into new markets and industries, provide a wide range of solutions, and meet the business needs of its current and potential clients due to this business strategy.
5. Intelligent lead capture
You can get a head start on the sales process if you can get the right customer data at the beginning. You'll be able to provide your leads with a better service experience from when they contact you to when they make a purchase. Using a brief web-based form, you can automatically record important new client information using Salesforce's built-in web-to-lead functionality.
This is an easy way to pre-qualify leads by asking them simple questions like how much energy the customer uses or how familiar they are with solar PV financing options. You can begin the sales process immediately and get to work sooner if you directly save this information into the new lead record in Salesforce.
6. Lead Assignment Quickly
The next step is to determine who is in charge of the lead. Making a list of your sales representatives and assigning each new lead to whoever is next in line could be all required for a lead assignment process on Salesforce. Alternatively, you could have a collection of more intricate lead assignment rules based on various criteria like customer types, location, budget, etc.
Your sales team typically conducts site surveys, evaluates power generation requirements, complies with the customer's budget, and prepares a proposal. This is especially helpful in the solar industry because each lead will be assigned to the right representative for the job and the product, depending on the type of customer.
7. Lead Evaluation
You need to keep track of your lead sources—where your leads come from—so that you can spend your money on the marketing channels that produce the highest-quality leads. Therefore, if you spend a significant amount of money with organizations such as Solar Review or Energy Sage and, in essence, purchase leads, you should be confident that you will receive a return on that investment in the form of leads that have been converted. In the same way, if you're using a lot of your resources for cold calling, you should make sure that many people become warm leads. If not, you'll be wasting valuable resource time. You can precisely determine where to allocate future funds for solar marketing if you can track your customers on Salesforce back to their initial lead source.
How can Salesforce be used to improve the solar energy industry?
Organizations that deal with solar industry systems can use Salesforce to enhance their overall processes using a few strategies. The following is a list of some of these strategies and solutions:
Implement a new organization on Lightning to complete the UX/UX overhaul and obtain improved lead maturation and conversion rates.

Identify major stakeholders and users to define the organization's visibility and accessibility and several components.

Developing objects specifically designed for management and implementation tasks to improve the project's management of solar system installation.

Utilizing third-party apps to develop necessary features and functions.

Utilizing Salesforce automation features like process builders,  workflow rules, alerts, workflow rules, triggers, and the integration of AppExchange third-party apps.

Establishing a community for improved interaction and communication.

Cleansing the data and migrating the organization's data from an older organization to a new one.
Also Read: Salesforce Industries: The Sustainable Way To Digital Transformation
Conclusion
The Salesforce platform is an excellent fit for organizations in the solar energy sector because of its unique requirements. To complement its organic innovation and advance the development of the Customer 360 Platform, Salesforce has a definite acquisition procedure that evaluates possibilities to invest or acquire in complementary services, businesses, technologies, and intellectual property. Implement Salesforce implementations for green energy to reap all its benefits now that you know how important it is to the solar energy industry.

GetOnCRM Solutions is a well-known Salesforce CRM Silver consulting partner. Our professional developers helped renewable energy enterprises successfully to streamline their business.