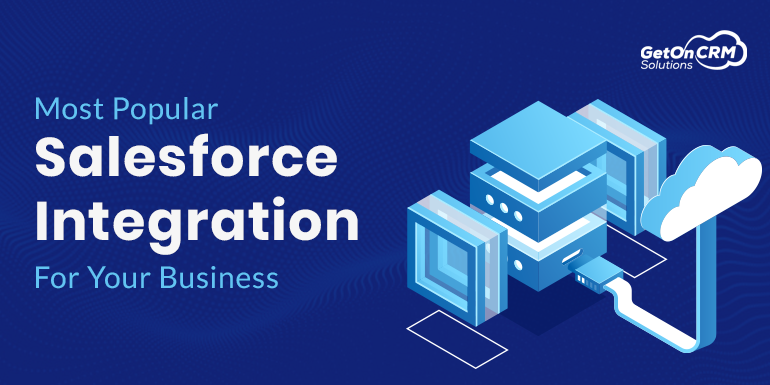 Most Popular Salesforce Integration For Your Business
February 16, 2021
7 minutes
988
Salesforce integration is one of the most leveraged ideologies for businesses to enjoy enhanced customer relationships. By integrating Salesforce onto some of the important business platforms, you can experience a better business productivity hike.
You need to understand that there are loads of business opportunities available for you to explore with Salesforce. You just have to make sure that you are pointed towards the right direction of salesforce integration onto several business platforms.
In this article, you will know about some of the popular salesforce integrations that diverse businesses have already adopted and implemented to experience better business productivity.
1. Integration of Salesforce and HubSpot
With the integration of Salesforce with HubSpot, you can be sure about enabling a bi-directional approach for getting detailed insights upon leads and enhancing customer interactions through marketing campaigns. Moreover, you can get intelligent information upon leads to ensure better rates of conversion.
With ideal integration, your sales team will get better information about the leads to ensure productive sales closing. With the right kind of information passed onto the sales team, you can be sure about an informative approach to the leads for an enhanced profitable outcome.
Moreover, you will also be sure about marketing and sales activities by tracking every aspect in a single hub with this integration. All the critical metrics can be kept track upon salesforce CRM integrated with HubSpot.
2. Integration of Salesforce with Slack
Salesforce embedded with Slack is meant for communicating in real-time. One can send messages in both ways and also manage the organizational tasks within the business at ease. With successful integration, you can count on this single tool to enhance productivity and search for salesforce instances within Slack.
Slack is meant for streamlining the workflows within an organization and enhances team collaboration aspects. Slack also enabled the organization to connect tools for added convenience. Salesforce and Slack integration will eradicate all the loopholes from the system in terms of communication.
Slack being used as a primary productivity asset within your company can also help you search for the salesforce instance and share adequate results for enhanced profitable outcomes. It promotes streamlined communication across the destined channels and also boosts business productivity within the company.
3. Integration of Salesforce with Facebook
Salesforce is allowing the businesses to integrate CRM assets with Facebook for enhancing the customer relationship management aspects. With successful integration over the platform, you will run different ad or marketing campaigns to enhance your business recognition.
With this real-time integration of Facebook and Salesforce, you can expect generating numerous leads for your business and gather relevant information about them. The source of information will be trusted and stored in the Salesforce CRM database when connected with Facebook directly. As a result, your sales team can leverage the information within the database to reach out to potential consumers and clients to get better business.
4. Integration of Salesforce with Marketo
Marketo integrated with Salesforce CRM will enhance the ability of the platform to manage email marketing, lead management and social media marketing. With successful integration, you can expect a higher Return on Investment by taking your marketing campaigns to the next step. Moreover, you will be able to provide better customer experience to the audience.
Salesforce CRM integration with Marketo will not just accelerate your revenue generation aspects, but you will also enjoy a fruitful hike on your investment returns. Marketing automation platforms are common these days for businesses to adapt. Marketo is one such popular automated marketing platform that can now be integrated with Salesforce CRM for enhancing its abilities.
You must know that this integration will let you bring revolution to your marketing efforts and its outcomes for better knowledge. You will experience a massive boost in your overall productivity with the inclusion of Salesforce upon Marketo.
5. Integration of Salesforce with SurveyMonkey
As the name suggests, SurveyMonkey is a survey site that brings to you the real-time feedback of the customers upon your business. Every business is well versed with the importance of feedback for the company's growth. Therefore, to maximize the potential of SurveyMonkey, it is integrated with Salesforce CRM to make the feedback and suggestions available for your team within the Salesforce database.
All the feedback collected from the surveys will be stored onto the CRM database for your team to use this information for generating interactive reports and developing strategies. These strategies can further be used for maximizing the profit outcomes of the company.
When you enhance your system based upon the customer feedback, you can eventually find better results over time. It is so because focusing on what clients or consumers expect from a brand helps a company reach out to a successful height. With this integration, you can assure the customers about providing them fruitful experience over time and improve the products or services offered by the company.
6. Integration of Salesforce with Jive
The customer and company relationship is often judged based on the way they communicate with one another. Therefore, the companies are trying their best to bring up remedies to connect with the clients or consumers on a more personalized level. Jive is the platform that helps the businesses connect with its clients or consumers engagingly.
With this platform, the businesses can call clients or consumers to offer them relevant products or services according to their needs. The businesses can also receive calls from the consumers to enhance that personal touch of the company with consumers.
When you integrate Jive with Salesforce, you can take down the suggestions, requirements, queries, expectations, and other information collected from the consumers over calls within the CRM database. Hence, you can enjoy the convenience of accessing and maintaining the customer feedback, suggestions, expectations and other such details to give them better service in the long run.
Conclusion
These are a few of the best salesforce integrations for your business to help you enjoy enhanced productivity and profitable outcomes in the modern era. Check on the integrations that you can do within your business operations today!
We at GetOnCRM, Salesforce Integration Consultants with many years of experience, help you to attach a wide variety of platforms to your sales API. We can assist you with Quickbooks, Box, Plunet, iOS/Android, Alexa, Google Home and many more Salesforce Integrations.